GOLAW Partner Max Lebedev is the Head of Private clients as well as Corporate law and M&A practices. He successfully consults foreign companies and local business on the issues of entering the Ukrainian market, business restructuring, and investment protection. Max is also actively developing the practice of green energy and already has successful experience in realisation of a number projects in this field.
Max Lebedev's transaction experience comprises the provision of full support of deals on the purchase or sale of assets in Ukraine, including conducting due diligence, taxation and corporate structuring of investment involving foreign jurisdictions, and carrying out currency transactions.
Also, Max's core areas of activity include the construction of international models of business and asset ownership in Ukraine and abroad, creation of personal holding structures (using trusts, private trust companies, and funds), trading companies, and development of mechanisms for transferring the capital and business to heirs. Max Lebedev's exclusive achievement is the establishment of family offices for several wealthy families in Ukraine.
As an advisor of foreign investors, Max represents clean and renewable energy developers, lenders , contractors and related companies on the entire lifecycle of the RES (Renewable energy systems) projects. He provides pioneering advice and guidance on efficient corporate structures, tax strategies, appropriate debt and equity financing models, environmental law, regulatory and risk management issues. Max's transactional experience includes a full legal support of the RES projects' implementation in the field of solar and wind energy and he has an exclusive experience of supporting a large scale project of biomass power plant construction.
In 2018, Max Lebedev was elected as a Board member of the European-Ukrainian Energy Agency and Сo-chair of the Solar Energy Subgroup.
In December 2021, GOLAW Partner Max Lebedev has been elected as a Vice Chairman of the European-Ukrainian Energy Agency Board (EUEA) for 2022.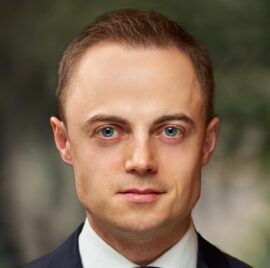 Partner, Head of Corporate Law and M&A practice, Attorney at law
Contacts

19B Instytutska ​street, Office 29 Ukraine, Kyiv, 01021