Olena Sulyma is specializing in civil, economic, tax, labor law and intellectual property rights. She provides professional consulting to the firm's clients on taxation, drawing up of economic and civil contracts, including foreign, concerning the protection of intellectual property rights of labor relations, compliance legislation on consumer protection in various areas of management, and legislation on advertising; carries out the analysis and assessment of tax aspects and risks of transactions and activities, legal support of negotiations on the conclusion of contracts, representation and advocacy of client's interests during the negotiations.
The lawyer has experience and successfully represents the interests of the firm's clients in tax and other supervisory bodies, including during inspections, in the course of pre-trial settlement of disputes and in litigation disputes of different specializations in the courts of all instances, during the execution of court decisions.
Olena is the author of many articles which examine the issue of enforcement in the areas of specialization, and she continuously provides expert commentaries for professional and business publications.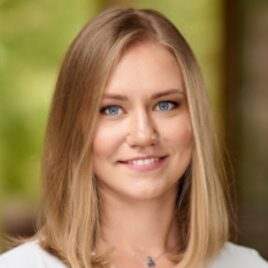 Senior Associate, Attorney at law
Contacts

Instytutska str., 19 B, office 29 Ukraine, Kyiv, 01021