Taras Lytovchenko is Counsel at Corporate and M&A practice in GOLAW and has over 8 years of professional experience in the field of corporate, commercial and labor law. Taras provides solid legal advice to international and local businesses in a variety of industries and sectors with focus on IT, energy, retail, medicines and pharmaceuticals.
Taras regularly advises clients on market entry and liquidation of businesses in Ukraine, restructurings and corporate reorganisations, corporate governance, general corporate and commercial law matters, currency control and various employment issues, including top-management changes. He also conducts legal due diligence of target companies and real estate, advises on all transactional matters as well as international corporate structuring matters.
Taras provides full legal support for renewable energy projects in Ukraine, representing investors, developers and EPC-contractors on all stages of the project development: from its due diligence and purchase to obtaining of "green" tariff and the actual power plant launch.
Moreover, Taras has extensive experience in regulatory compliance matters on manufacturing, product launching and distribution of medical devices. He counsels manufacturers and distributors on conformity assessment procedures of medical devices and interaction with the State Service of Ukraine on Medicines and Drug Control during inspections.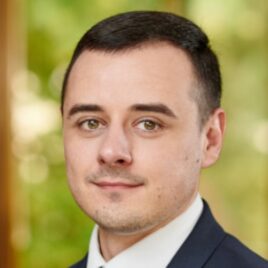 Contacts

Instytutska ​str., 19 B, office 26 Ukraine, Kyiv, 01021