​Join GOLAW Team!
Love your job, do it with the highest attention to details and timely – the formula for success is simple. Use it

Valentуn Gvozdiy, GOLAW Managing Partner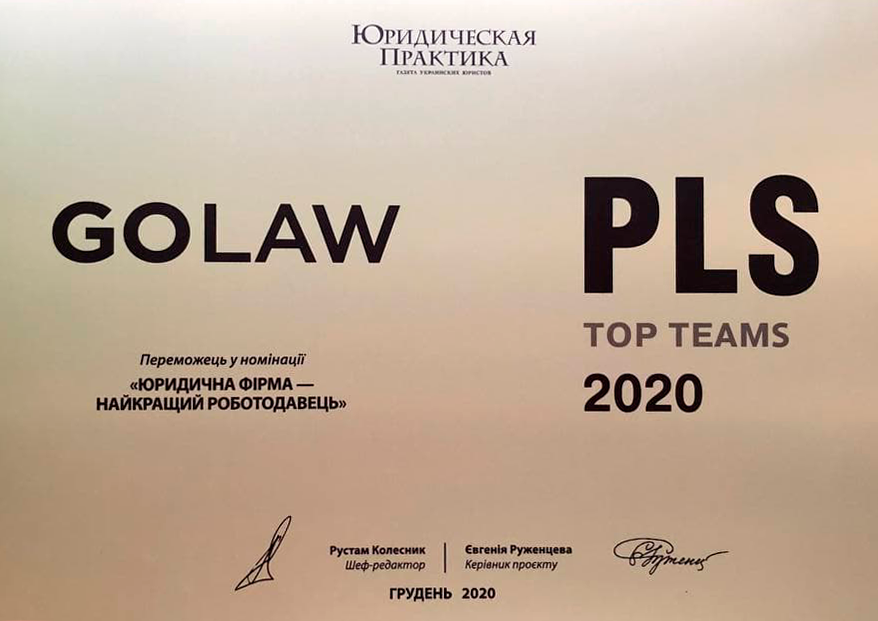 "Law Firm – Best Employer" award according to the PLS Top Teams 2020
Why choose GOLAW?
Working at GOLAW means working with the true professionals who are really passionate about what they are doing and always ready to explore new horizons.
We intentionally use the word 'Team' every time we are talking about GOLAW employees. We strongly believe that the best results in business can be achieved only by those people who are moving in the same direction, share one vision of the brand and are ready to achieve common goals.
We invest in our people. We are happy to share our experience and to support you throughout you career path. Projects with the large international companies, lectures and presentation for your skills development, membership at business associations and bright team-building events – you are welcomed to experience everything.
At GOLAW we do our best to create a friendly social environment at you workplace. We also believe that by providing a policy of diversity and inclusion we created a flexible environment where all employees can feel themselves as a part of the whole community. We created an atmosphere of mutual respect, where people are valued for their professional knowledge rather not their social status, ethnicity or gender.
Work-life balance is one of the most important attributes of our work, which encourages each member of the GOLAW Team to maximize their potential.2 incredible minutes of our colleagues' life for your attention:
We want to see in our Team people who could be with us on the same page. Could you?
hr@golaw.ua