Overview
Company formation, investment structuring, drafting of corporate documents and shareholders agreements, support in M&A transactions – services of GOLAW corporate practice provided by the background of extensive experience of our attorneys with large and mid-sized Ukrainian and foreign companies.
Whatever is the focus of your business and regardless of the country it is located, deep understanding international standards of corporate governance and allows our team to effectively advise international and ukrainian companies.
Company directors' duties and additional liability of top managers are constantly increasing and evolving, thus it is very important to have experienced advisors by your side, which can efficiently prevent corporate conflicts.
We offer efficient, proven solutions, a single point of contact, a clear cost structure, oversight and control across your global operations.
GOLAW associates provide a wide range of legal services in the field of corporate law: from new company registration, business entity transformation, internal documentation development, corporate governance, constructive functioning, acquisition, alienation of property complexes, implementation of M&A procedures, up to the implementation of comprehensive measures on a legal entity liquidation.
GOLAW's perennial transnational experience in corporate law ensures high-quality support for business activities, both based on the statutory provisions of international legislation and under the requirements of the Ukrainian legislation.
The personal legal approach of GOLAW corporate law associates ensures large-scale and prompt resolution of difficult issues related to the selection of a legal entity form of incorporation, tax payment system, implementation of M&A agreements, privatization, placement of shares, securities, settlement of corporate disputes, termination of illegal raiding actions and settlement of all kinds of other cases.
Establishment of business structures. Comprehensive approach
Legal planning of strategic tasks, policy of the future company
Comprehensive legal advice on the appropriate form of incorporation of a legal entity, the procedure for the effective operation of property by a company
Modeling the most economically profitable options for paying taxes, legal services for tax planning, selection of a refined corporate tax system
Legal advice on the establishment, favorable operation, liquidation of holding structures, representative offices, branches, subsidiaries
Drafting of constituent documents, generation of charters, statutes, provisions, establishing acts, constituent agreements, memorandums, development of transactional documentation, as well as other corporate documents
Development of legal documentation required for the standard operation of the corporate structure: agreements, instructions, provisions, orders
Legal support of procedures for registration of legal entities, individual entrepreneurs in the Unified State Register
Preliminary legal preparation, collection of the required documents for the company registration
Advising on the development of an effective corporate governance policy, a conglomerate of effective personnel administration methods, mutually beneficial existence of owners, beneficiaries, shareholders, managers, employees
Legal assistance for the effective implementation of entrepreneurial activity
Advising on the procedure for holding general meetings, required quorum, decision-making by general meetings, minutes
Collection of documents for registration of changes in the composition of the founders of a legal entity, alienation of the participant's share in the statutory capital
Legal advice on compliance with the requirements of labor legislation by the company
Development of documentation for alienation, acquisition of corporate rights, drawing up agreements between shareholders
Consulting on effective management, organization of corporate funds disposal
Thorough internal audit services, analysis of the company economic activities
Organization of placement of shares, company securities, consulting on the issue of sale and purchase of shares on the stock exchange, IPO services
Consulting on a system of organizational measures for restructuring of economic activities to modernize the company internal corporate structure, ways to develop productive, economic factors taking into account current tax, antimonopoly, and marketing cases
Consulting on the privatization issues under the provisions of the effective legislation
Corporate disputes resolution. Systematic approach
Drawing up well-grounded claims of shareholders
Representation of interests in corporate disputes
Appealing against unlawful decisions, actions, the inaction of registrars, subjects of state registration to make binding decisions, actions, or termination of illegal inaction
Protecting the interests of shareholders, rights to manage a joint-stock company, receipt of dividends, part of the property in case of a legal entity termination, and other corporate rights
Development of a conglomerate of measures to prevent the possibility of illegal actions that are raiding in nature, operational protection of rights in case of active raiding pressure
Protection of the rights of a business entity from hostile, economically unprofitable mergers, acquisitions, actions of discrediting, dissemination of false statements about the company
Prompt resolution of internal corporate conflicts
Development of systemic measures to counter unfair competition, protection of commercial secrets, confidential statements
M&A, liquidation procedures, legal entity termination
Drawing up step-by-step instructions for mergers, acquisitions, accessions of transnational, Ukrainian enterprises, consolidation of forms, assets of a business entity, economic, legal risk forecast
Legal advice on the system of M&A procedures, corporate restructuring of a company
Representation of a legal entity interests when entering into or executing M&A agreements
Advising on compliance with international and national corporate and business legislation and law
Audit of company assets, real estate, internal documentation, material transactions related to a possible business acquisition
Legal support for the registration of mergers, reorganizations, accessions of companies, entering the relevant data into the Register of Companies in Liquidation
Legal assistance in the registering legal entities that that have arisen after separation, changing information in the Register about the company, from which the separation has occurred
Preparation of transferring corporate acts (mergers, accessions, transformations) and distribution balances (divisions, separations)
Legal support in the legal entity liquidation
Legal assistance in the deregistration of a company with regulatory, fiscal, pension authorities
Advising on the sale of a company, an integral property complex
Drawing up agreements for the business sale, acquisition, other corporate documentation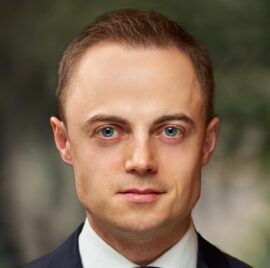 Partner, Head of Corporate Law and M&A practice, Attorney at law
Recognitions

Best Lawyers in Ukraine 2021

The Legal 500 EMEA 2020

Ukrainian Law firms. A Handbook for Foreign Clients 2019

50 leading law firms of Ukraine 2020