Overview
Company formation, investment structuring, drafting of corporate documents and shareholders agreements, support in M&A transactions – services of GOLAW corporate practice provided by the background of extensive experience of our attorneys with large and mid-sized Ukrainian and foreign companies.
Whatever is the focus of your business and regardless of the country it is located, deep understanding international standards of corporate governance and allows our team to effectively advise international and ukrainian companies.
Company directors' duties and additional liability of top managers are constantly increasing and evolving, thus it is very important to have experienced advisors by your side, which can efficiently prevent corporate conflicts.
We offer efficient, proven solutions, a single point of contact, a clear cost structure, oversight and control across your global operations.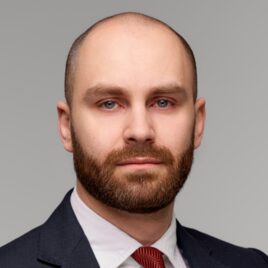 Partner, Head of Corporate Law and M&A practice, Attorney at law
Contacts

31/33 Kniaziv Ostrozkykh St, Zorianyi Business Center, Kyiv, Ukraine, 01010