Overview
The major clients of the firm's Real estate practice are construction companies, developers, EPC-contractors, banks, retail companies and private individuals.
Our lawyers have extensive experience in conducting complex legal due diligence of real estate, structuring of transactions, risk assessment in real estate acquisition and lease, property rights and title registration.
We provide comprehensive legal support within the greenfield and brownfield construction projects, their structuring, FIDIC contracts conclusion and permitting documents obtaining.
The scope of services includes also advice on financing and taxation matters.
We are proud of the firm's experience in dispute resolution, handling with encumbrances, assets foreclosure and the sale of property at auctions.
Additionally, we provide full legal assistance to private clients during acquisition of land, private houses and luxury apartments.
Marshal Victory is a part of GOLAW group of companies and specializes in comprehensive analyses of movable and immovable property aimed at assessing the technical condition of a facility and the potential risk for an investor or an owner.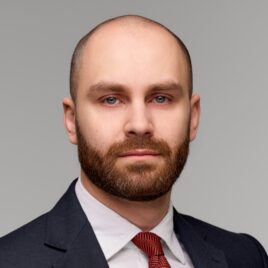 Partner, Head of Corporate Law and M&A practice, Attorney at law
Contacts

31/33 Kniaziv Ostrozkykh St, Zorianyi Business Center, Kyiv, Ukraine, 01010