Overview
Matters in the sphere of restructuring and non-performing loans (NPL) require not only a thorough theoretical knowledge of legislation, but also a considerable amount of practical experience. GOLAW's attorneys represent the interests of Ukrainian and foreign financial institutions such as private and public insurance companies and international banks in providing financing, debt restructuring and resolving disputes with unconscientious debtors.
Our firm's lawyers have substantial experience dealing with issues such as the legal audit of borrowers and their assets, preparation of collateral contracts (mortgage, pledge), development of legal and GR-strategy of protection of financial institution's rights against fraudulent actions of debtors, foreclosure of the pledged (mortgaged) property, including through court proceedings.
GOLAW represented the interests of a state-owned Czech bank as a scheduled creditor during the debtor's bankruptcy proceedings in Ukraine, and accompanied the enforcement of the foreclosure on the pledged integral property complex. In addition, the firm advised a foreign holding company on the restructuring of non-performing liabilities in order to optimize the activity of the company. The main advantage of GOLAW is the existence of a restructuring strategy on the one hand, and the ability to adapt well-tested legal protection instruments for the individual needs of each client, on the other.
---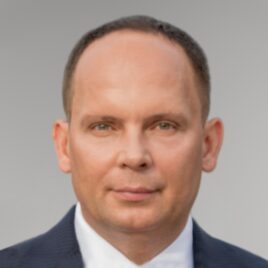 Senior Partner, Attorney at law
Contacts

31/33 Kniaziv Ostrozkykh St, Zorianyi Business Center, Kyiv, Ukraine, 01010
Recognitions

The Legal 500 EMEA 2023

Who's Who Legal 2022