Overview
Having ample experience in legal matters in different areas of information technology and innovations, we speak the same language with our IT sector Clients – ranging from startups to large international IT companies.
The GOLAW team advises and represents Clients on a wide range of legal issues, including the development and preparation of IT contracts, IT business structuring, general IT business, and e-commerce legal support, Diia City residency support, the introduction of new technologies and products, physical and virtual data centers, cloud technologies and payment systems.
GOLAW's IT practice also provides comprehensive legal advice on software rights and other intellectual property issues, implementation of electronic document management, IT business taxation, solutions regarding cyber security issues, and implementation of data protection mechanisms.
Our Clients include leading domestic and international product companies, software developers, service and technology providers, manufacturers of IT equipment and digital platforms.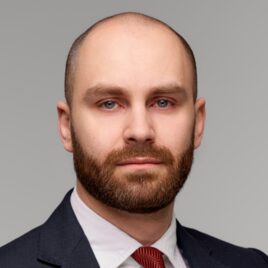 Partner, Head of Corporate Law and M&A practice, Attorney at law
Contacts

31/33 Kniaziv Ostrozkykh St, Zorianyi Business Center, Kyiv, Ukraine, 01010