Kateryna has an impressive track record of successful representation of clients in highly complex litigations in courts of all levels and jurisdictions. Her professional experience includes effective representation of the largest foreign and Ukrainian banks in matters related to the recovery of bad debts and foreclosure on collaterals.
Kateryna's competence includes legal support in commercial, civil and administrative disputes, namely the ones related to the protection of the title, registration of rights to the real estate, contractual relations, insolvency and bankruptcy proceedings as well as appeal on public authorities decisions, actions or their inaction.
Among other areas of her focus is labour law. In particular, she counsels and represents in courts international and Ukrainian companies on complex disputes related to the dismissal of executives and other key employees, drafts labour agreements and contracts, and conducts comprehensive labour law audits. Kateryna also regularly supports clients during audits conducted by regulatory authorities.
Kateryna is the Deputy Head of the Labor Law Committee of the Ukrainian National Bar Association, a regular lecturer at the Higher School of Advocacy and the author of numerous professional publications. She is a regular well-regarded speaker of business events related to labor law issues.
---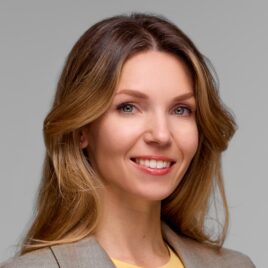 Contacts

31/33 Kniaziv Ostrozkykh St, Zorianyi Business Center, Kyiv, Ukraine, 01010