Oleksandr Melnyk is a Partner, Head of Corporate Law and M&A practice specializing in issues of corporate, competitive, banking and finance law, and business relationships with regulatory authorities.
He has significant experience in business incorporation, restructuring and liquidation, conducting due diligence of companies and business structures. Provides advice regarding real estate alienation, supports transactions on sale and purchase of businesses and real estate.
Oleksandr supports the procedures for renting state and communal property and its privatization. Also, he participates in the implementation of projects on the construction of alternative energy facilities on the territory of Ukraine. The lawyer provides advice on antitrust and competition matters in particular, analysis of transactions, actions of groups of business entities for the necessity of obtaining prior authorization for concentration or permission for concerted actions, advices regarding unfair advertising and competition, represent clients in cases concerning concerted actions, unfair competition, fraud and price manipulation in commodity and financial markets.
Oleksandr provides legal assistance to business and banks in relation of business financing, in particular regarding structuring of financing, performs due diligence of collateral security documents, drafting and agreeing the contracts securing obligations (bonds) and registration of encumbrances. Has experience in cross-border co-financing projects involving international financial institutions (IFC, EBRD etc.), drafting and review of Intercreditor's Agreements, Security Sharing Agreements, Subordination Agreements etc.
Also, Oleksandr actively advises retail sector representatives on the issues of compliance with the consumer protection legislation and market surveillance, conformity assessment procedures and has a successful experience in supporting the inspections conducted by the State Service of Ukraine for Food Safety and Consumer Protection and appealing against their results in court. He provides legal advice regarding registration, protection and transfer of intellectual property rights, has experience in drafting of the cross-border franchise agreements.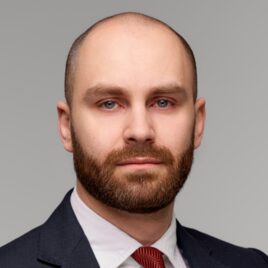 Partner, Head of Corporate Law and M&A practice, Attorney at law
Contacts

31/33 Kniaziv Ostrozkykh St, Zorianyi Business Center, Kyiv, Ukraine, 01010