10 December 2021
- Events
Diia City introduces new opportunities for the types of cooperation of IT-companies with specialists and external contractors. The lack of practice and experience in using gig contracts compared to the usual employment or commercial contracts raises a number of practical issues.
GOLAW law firm in partnership with IT Ukraine Association invites you to join the second webinar of the "Adaptation of IT-company to Diia City" series, which will reveal useful tools and features of settling relations with IT professionals under the new rules.
❗ Questions for discussion:
🎯 What are the types of cooperation with IT professionals for the Diia City residents?
🎯 How to arrange a change in the model of attracting specialists?
🎯 Employment contract VS gig contract VS agreement with a private entrepreneur
🎯 What are the peculiarities of concluding and terminating gig contracts?
🎯 Will the NDA, NCA, NSA agreements work, and what are the risks?
Speakers:
🎤Max Lebedev – partner at GOLAW
🎤 Oleksandr Melnyk – senior associate, attorney at law at GOLAW
⚡Max Lebedev is a recognized expert in the field of corporate and commercial law, he heads the practice of corporate law and M&A, as well as Private Clients practice at GOLAW.
One of Max's areas of expertise is advising Ukrainian and international IT companies on structuring investments and M&A transactions, development of a corporate structure, corporate governance system, as well as regulatory and commercial issues of companies in the IT sector.
⚡Oleksandr Melnyk is a senior associate in corporate law and M&A practice specializing in issues of corporate, competitive, banking, IT, real estate, as well as in business relations with regulatory authorities.
His significant experience includes drafting contracts and agreements (contracts on software development, copyright agreements, license agreements) for developers and outsourcing companies, consulting in the field of managing rights for a software product and its use for an IT company (transfer of property rights, licensing contracts, SaaS), as well as consulting on intellectual property issues.
❗ Participation is free of charge.
❗ Please, note that registration for the event is compulsory.
❗After registration you will receive a confirmation and a broadcast link to the specified email.
📅 Date: 20.12
⏱ Time: 15:00 – 16:00
📹 Format: online (Zoom)
🌐 Language: Ukrainian
✔Target audience: CEOs and CFOs, business owners, in-house lawyers
Registration
Online webinar

20 December 2021

15:00 -16:00
Register now
Speakers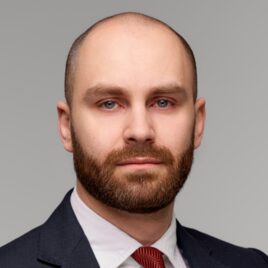 Partner, Head of Corporate Law and M&A practice, Attorney at law