Ukrainian privatization is gaining momentum: more and more assets are getting privatized. Ukraine has raised over UAH 3,03 billion from privatization in 2020 and the State Property Fund of Ukraine is planning to reach UAH 12 billion in 2021.
However, along with the success stories, some fails take place, experience of which gives us the understanding of how the potential buyer shall not act and what shall be taken into account by the privatization participant.
GOLAW law firm jointly with the State Property Fund of Ukraine invite you to join the webinar, during which we will discuss practical aspects of preparation, participation in auctions, and post-auction stages of the privatization process. Become aware of how to make everything properly and not to lose the opportunity of purchasing unique assets.
Topics do discuss:
What mistakes of potential buyers prevented them from successful privatization? (real cases)
What actions shall be taken and what are the nuances of documents preparation for the privatization?
Buyer's eligibility requirements.
Peculiarities of foreign investors' participation in privatization.
Practical tips on how to prepare for the privatization
Q&A session
Speakers:
Max Lebedev – Partner at GOLAW
Oleksandr Melnyk – Associate at GOLAW
Olga Batova – Counsel of the Chairman of the State Property Fund of Ukraine
Registration
Online-webinar

14 April 2021

11:00 -12:00
Register now
Speakers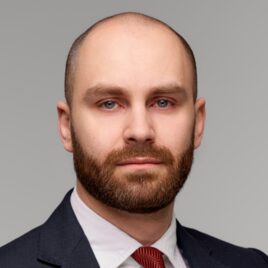 Partner, Head of Corporate Law and M&A practice, Attorney at law