03 January 2018
- Publication
Sergiy Oberkovych, GOLAW firm senior partner speaks with the Kyiv Post
The Kyiv-based Gvozdiy & Oberkovych law firm never easily rolled of fthe tongue. So the main partners, Valentyn Gvozdiy and Sergiy Oberkovych, three years ago shortened it to GOLAW. It's definitely a catchier and easier way to remember the 50-lawyer firm that started 15 years ago and that, according to the latest ranking by Yuridicheskaya Praktika (Legal Practice) magazine, is now the eighth best law firm in the nation.
Besides a rebranding exercise, Oberkovych said the name GOLAW is also meant as a suggestive message for Ukraine, where the firm does most of its business: "Stick to the law." In an interview with the Kyiv Post, Oberkovych said that he sees signs that Ukraine is doing so — gradually becoming a rule-of-law nation, to the consternation of its autocratic enemy in the Kremlin.
Considering that the firm relies mostly on foreign investors as clients, Oberkovych has keen insights into the state of Ukraine's investment climate. "From my point of view, there is substantial progress against corruption," Oberkovych said. Yet, despite the improvements, investors are still sitting on the sidelines and afraid to come to Ukraine. He thinks it's a mistake for them to wait.
He still views his native Ukraine as "a land of opportunities."
Bright spots
"There are a lot of very good educated people with skills, and tremendous natural resources in Ukraine," Oberkovych said.
"There is not a high level of competition because not a lot of international companies have come here. It's difficult for certain foreign investors to be brave enough come here at this moment.
But if they come later, when the judicial system is improved, there will be other competitors here definitely. The revenue they can generatewill not be what they can generate now, with some degree of risk."
He sees bright spots in the newly constituted Supreme Court, the National Anti-Corruption Bureau of Ukraine, the Business Ombudsman's Council and the State Fiscal Service of Ukraine. He is more critical of the unreformed General Prosecutor's Office, the Security Service of Ukraine and other law enforcement agencies, particularly at the local levels, which still create too many obstacles — some of them illegal — for commerce to thrive.
He is looking ahead in 2018 to the creation of the State Investigative Service, which is supposed to take over investigative duties from the all-powerful General Prosecutor's Office, whose 15,000 discredited employees have essentially followed political orders in dictating justice since Ukraine regained independence in 1991.
Such a transition will improve the Ukrainian judicial system by making it resemble more closely the Western model. He also wants to see the creation of a state Financial Investigative Service, responsible for complex financial crimes which are going uninvestigated and unprosecuted today.
As a sign of optimism about Ukraine's future as an investment destination, GOLAW opened an office in Berlin, Germany, to go with its Ukraine offices in Kyiv and Odesa. "We do expect more German companies to come to Ukraine," Oberkovych said.
2018 to-do list
Yet there is also a long list of unfinished work needed to spur investment, not least of which is winning the war against Russia, and domestically by waging "a non-stop war on corruption," including creation of an agricultural land market and selling off thousands of state-owned enterprises.
"The real privatization didn't happen," Oberkovych said.
"Hopefully it will happen next year." The interview with Oberkovych took place on Dec. 15, the date that the newly appointed Ukrainian Supreme Court took power after being sworn in.
"This Supreme Court gives a lot of hope. I was looking at the list of judges. Quite a lot of them are known to me and some of them, from my point of view, have very good reputations and are very good people," Oberkovych said. "This judicial reform will make foreign investors more comfortable."
He also sees mixed progress at the trial court level.
"Judges are making their rulings now on the merits rather than on the phone calls from the various offices or other influences they have had in the past, but such kinds of influences are still happening on the lowlevel courts," he said.
He also favors the creation of an independent anti-corruption court, at least on a transitional basis, until regular judges regain the public's trust.
As for the Business Ombudsman's Council headed by Lithuanian Algirdas Semeta, "probably two thirds of the cases which we referred to the
business ombudsman were successfully resolved with their assistance and our legal work," Oberkovych said.
Spoiling investment
But the situation remains far from perfect, Oberkovych said, with law firms like GOLAW and others spending an inordinate amount of time and "negative energy" simply trying to defend clients' legal rights. He'd much rather work positive legal avenues such as registering new businesses and investment, doing mergers and acquisitions, working on new loan agreements and so on.
One big dispute is taking place in Vilnohirsk, a Dnipropetrovsk Oblast city of 23,000 people nearly 400 kilometers southeast of Kyiv. There, one of the largest producers of glass containers for beverages, Vilnohirske Sklo, is fighting off its obligations on a $21-million loan it took in 2012 from a private Czech lending institution, Expobank.
According to Oberkovych, the company illegally divided its buildings, the collateral on the loan, in four parts, making the original collateral seize to exist.
"There are so many tricky ways that borrowers are trying not to pay," said Oberkovych.
The Czech bank took the company to court — only to get entangled in a now year-long series of trials.
"Such cases are definitely not making Ukraine more attractive for foreign investors and foreign business," Oberkovych said.
"Such cases are happening less and less often, but they are a nightmare for any foreign investor and bank making foreign loan." Because of the dispute, the Czech Republic's state-owned Export Guarantee and Insurance Corporation, which insured the loan, was hesitant to insure loans to Ukraine.
In other cases, GOLAW is fighting the prosecutor's office and investigative authorities for their international clients, achieving "only very moderate results." One involves an attempt by a company's shareholders to change its name in the official register to escape a bank debt. "It's primitive but very effective" in tying up the case in legal proceedings and preventing foreclosure, Oberkovych said.
Other times raiders appear to be working with prosecutors in Kyiv to thwart criminal investigations into attacks. "They're not doing their job at all," Oberkovych said of the Prosecutor General's Office led by Yuriy Lutsenko. "So the prosecutor's office has to be definitely reformed."
Lawyers want reform
Oberkovych takes issue with critics of Ukraine's legal profession who contend that lawyers are benefiting by the corrupt system in place and thus have no incentive to see the country move to a rule-of-law society. "I totally disagree with that statement.
"We as lawyers have to face a lot of problems of our clients and help them to resolve them," Oberkovych said.
"We are also normal human beings. Being involved in something with only negative energy, it doesn't help us."
As for his assessment of the state of Ukraine's corruption war, Oberkovych said: "The fight is still on. We cannot say the corruption is defeated. Now it is possible to fight it with more success. Those newly introduced institutions only recently began their operations and are witnessing aggressive attacks by those not happy with their effective work," Oberkovych said.
"Little by little, Ukraine is moving to a normal civilized state where rule of law is prevailing. We're going in the right direction."
Sergiy Oberkovych,
Senior partner, GOLAW
By Brian Bonner.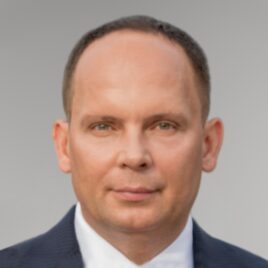 Senior Partner, Attorney at law
Contacts

31/33 Kniaziv Ostrozkykh St, Zorianyi Business Center, Kyiv, Ukraine, 01010
Recognitions

The Legal 500 EMEA 2023

Who's Who Legal 2022