27 April 2021
- Publication
The lack of legislative regulation of the High Qualifications Commission of Judges (HQCJ) and the suspension of new judges' appointments adversely affect businesses that cannot access justice within a reasonable time.
This was stated by Valentyn Gvozdiy, Managing Partner atGOLAW, during the presentation of the EBA survey findings – the Court Index 2020.
He explained that the HQCJ has not been able to start operations for 1.5 years already, and since it is impossible to appoint new judges without its participation, this leads to a staff shortage within the judiciary, an increase of workload on judges, and court proceedings protraction.
We do not wish our cases to be heard by judge assistants. We would like the cases to be heard by qualified judges who have been properly trained. And such judges simply do not have time to consider cases qualitatively. Their number should be increased two or three times

said Valentyn Gvozdiy
He also mentioned legislative initiatives regarding the ultimate reforming of the High Council of Justice within the same context. It is currently the only judicial authority that can impose disciplinary sanctions up to judges' dismissal.
According to the legal community, the activities of the High Council of Justice are quite effective nowadays. This body is really efficient, and I believe that we should support it, not create institutional stress… Unless we have a strict but honest disciplinary body, there will be no hope for any order

emphasized Valentyn Gvozdiy
The business expects quick legislative inclusion of e-court services application into procedural codes. According to a survey[VS1] by EBA and GOLAW, 69% of businesses believe that the "E-Court" project implementation will improve the parties' access to justice and increase the level of confidence in the judiciary.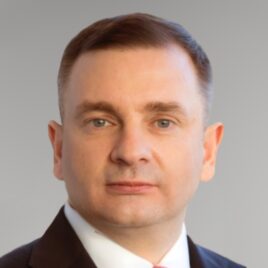 Managing Partner, Attorney at law, PhD
Contacts

31/33 Kniaziv Ostrozkykh St, Zorianyi Business Center, Kyiv, Ukraine, 01010
Recognitions

The Legal 500 EMEA 2023

Who's Who Legal 2022