Valentyn Gvozdiy is Managing Partner at GOLAW and Vice-President of the Ukrainian National Bar Association (UNBA). He has extensive experience in handling some of the most complex litigations and high profile white collar crime cases in Ukraine of the last few years with remarkable results. He provides development of legal strategies for litigation cases and criminal proceedings as well as their further implementation for both Ukrainian and foreign companies, challenging unlawful actions of law enforcement authorities, procedural representation of legal entities and their top-employees during investigations, defence of potential and actual suspects and defendants. His competencies include support during investment, corporate, economic and administrative disputes.
Among other focus areas in Valentyn's practice is Tax, Corporate and Banking. He focuses on the provision of legal advice on a broad spectrum of related legislation issues, tax litigation, as well as tax planning and structuring, along with representing the interests of local and foreign companies before the tax authorities (including all types of tax investigations both domestic and international).
In 2019 the lawyer was elected as the Head of the Supervisory Board at Ukrhydroenergo PJSC.
In 2020 Valentyn received a Ph.D. degree in Law on specialty "Administrative Law and Process; Financial Law; Informational Law". His thesis was on the topic "Administrative and legal status of attorneys' self-government bodies".
Valentyn Gvozdiy has been awarded with the title of Honored Lawyer of Ukraine (2017).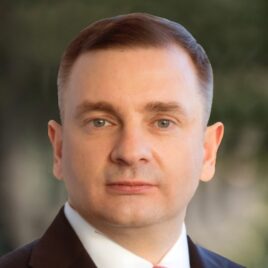 Managing Partner, Attorney at law, PhD
Contacts

19B Instytutska ​street, Office 29 Ukraine, Kyiv, 01021