16 August 2022
- Publication
Since the beginning of the full-scale invasion of Ukraine, privatization was effectively blocked, as the AMCU (Antimonopoly Committee of Ukraine) did not issue concentration permits, and state registries and notaries did not work. However, there was no formal ban on privatization during martial law in Ukraine.
On July 28, 2022, the Verkhovna Rada of Ukraine adopted Draft Law No. 7451 on amendments to the Law of Ukraine "On the Privatization of State and Communal Property" as a whole and other legislative acts of Ukraine on facilitating the relocation of companies under martial law and the economic recovery of the state" (hereinafter – "the Law"), which removes the mentioned barriers and significantly simplifies privatization processes.
The Law aims to speed up and adapt privatization processes during martial law in Ukraine. The Law is also aimed at improving the procedure for preparing for privatization and selling state-owned privatization objects, increasing the investment attractiveness of privatization objects, and increasing the efficiency of pre-privatization preparation of state-owned objects for which a decision on privatization has been made.
Undoubtedly, the acceleration and optimization of privatization will contribute to relocating businesses, attracting new investments, and accelerating the Ukrainian economy's recovery.
The adopted Law, among other things, proposes the following critical changes:
significant shortening of the terms of conducting privatization auctions and preparing objects: from the announcement to the signing of the contract no more than two months;
the buyer makes payment before concluding the sales contract;
unblocking the privatization of state-owned companies with property seizures and encumbrances while preserving the rights of creditors;
the possibility of large-scale privatization at online auctions (however, auctions will not be held during martial law);
transfer of all permits and licenses to the new owners of single property complexes, instead of the need for entrepreneurs to reissue all permit documents;
digitization of key privatization processes through online auction announcements.
How can GOLAW help?
preparation of documents for participation in the privatization procedure
consulting on the procedure for participating in auctions for the privatization of state and/or communal property
drawing up and negotiating agreements on the privatization of property, support for the conclusion of the agreement
due diligence of the privatization object
representing the interests of buyers in the State Property Fund of Ukraine.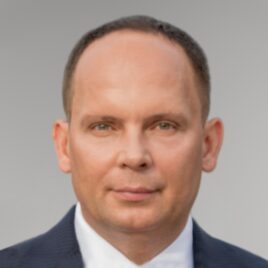 Senior Partner, Attorney at law
Contacts

31/33 Kniaziv Ostrozkykh St, Zorianyi Business Center, Kyiv, Ukraine, 01010
Recognitions

The Legal 500 EMEA 2023

Who's Who Legal 2022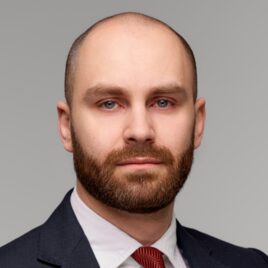 Partner, Head of Corporate Law and M&A practice, Attorney at law
Contacts

31/33 Kniaziv Ostrozkykh St, Zorianyi Business Center, Kyiv, Ukraine, 01010